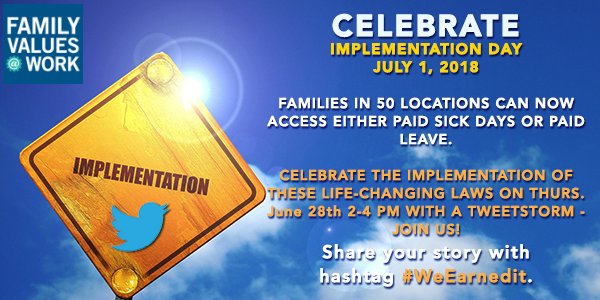 Did you know that 14 of the 50 paid leave laws (paid sick and safe days and paid family and medical leave) passed in the US have anniversaries on July 1? And this July 1st Rhode Islanders start earning paid sick and safe days!
Join us in celebrating these anniversaries and the implementation of all paid leave laws in a
tweetstorm
on June 28 from 2-4 EST! Check out a few sample tweets below.
In addition to the tweetstorm,
Family Values @ Work
and
Main Street Alliance
have been working together to hold events and place opeds across the country on June 28. We'll keep you updated on what events are happening near you and where you can find opeds as they are published.
On 7/1/02, CA #PaidFamilyLeave took effect. Now 40+ cities/states have #paidsickdays and #paidfamilyleave. Take the time you need #WeEarnedIt
Is your city or state on the list of places with #paidsickdays? Check here:
https://bit.ly/2LpQa6G
#WeEarnedIt
#SmallBiz owners know that sick employees on the job costs our economy $218 billion each year. That's why we support #PaidSickDays
#SmallBiz owners support the FAMILY Act and #PaidFamilyLeave to help us and our employees balance work and family without breaking the bank.
On July 1, an additional 100,000 Rhode Island workers can start earning paid sick time to take care of themselves and still be able to care for their families. To learn more visit
www.economicprogressri.org/RIPaidSickLeave
#WeEarnedIt #PaidSickDays
Choosing between your health and a paycheck is a thing of the past! Philadelphia's #paidsickdays is in effect:
https://goo.gl/tLY8QP
#WeEarnedIt